This is a list of homebrew shops in the Philadelphia, Buck County, and surrounding areas. Though we may all be able to find some deals online, the ALEiens like to support their local homebrew shops. So before you order online to save $5, consider one of the shops below.
---
Wine, Barley & Hops Homebrew Supply is your source for premium wine and beer making supplies.
Our inventory includes equipment and supplies for the beginner, novice and experienced winemaker or brewer. Stop in; your next great batch of beer or wine is just one visit away.
Address:
248 Bustleton Pike
Feasterville, PA 19053
Phone:
(215) 322-4780
E-Mail:
info@winebarleyandhops.com
Regular Hours:
Mon: Closed all year
Tue: 11:00 - 6:30
Wed: 11:00 - 6:30
Thu: 11:00 - 7:30
Fri: 11:00 - 6:30
Sat: 11:00 - 5:00
Sun: 12:00 - 5:00
---
For 15 years Princeton Homebrew has helped homebrewers make the best beer and wine they can with expert advice and the largest homebrew store in Central New Jersey
Address:
Rt. 29 North, 208 Sanhican Drive
Trenton, NJ 08618
Phone:
(609) 252-1800
E-Mail:
joe@solarhomebrew.com
Regular Hours:
Mon: 10am – 6pm
Tue: Closed
Wed: 12pm – 6pm
Thu: 10am – 8pm
Fri: 10am – 6pm
Sat: 12pm – 6pm
Sun: 10am – 3pm
---
Keystone Homebrew Supply brings you the best service and supplies for making beer and wine at home. There's more brewing and winemaking ingredients, kits, equipment, and whatnot being added to our shopping cart all the time. Still, only a fraction of the items we carry are listed online. If you don't see what you're looking for, please call or email your requests and we will gladly quote you a price
Address:
779 Bethlehem Pike (Rt. 309)
Montgomeryville, PA 18936
Phone:
(215) 855-0100
E-Mail:
info@keystonehomebrew.com
Regular Hours::
Mon: 10:00-6:00
Tue: 10:00-7:00
Wed: 10:00-7:00
Thu: 10:00-7:00
Fri: 10:00-9:00
Sat: 10:00-5:00
Sun: 11:00-5:00
---
Redefining Homebrew, Philly Homebrew Outlet specializes in Beer, Wine, Cheese and Charcuterie making equipment and ingredients as well as home and professional bar equipment. Our goal is to provide you with the best customer service and expert knowledge so everyone can succeed in meeting there homebrew goals.
Address:
1447 N. American St.
Philadelphia, PA, 19122
Phone:
(215) 755-4556
E-Mail:info@phillyhomebrew.com
Normal Hours:
Mon - Fri: 11:00am to 7:00pm
Sat - Sun: 10:00am to 5:00pm
---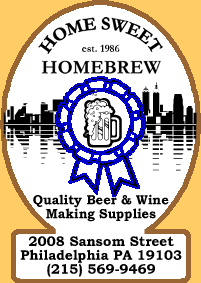 Philadelphia's Original Source Since 1986 for Quality Beer & Wine Making Supplies. We have been fostering the homebrew and craft brew community in the Philadelphia region and beyond for over twenty-one years. We are home to George Hummel, award winning homebrewer and Mid-Atlantic Brewing News columnist. George also collaborated with Gordon Grubb, brewer at Nodding Head, on their 2005 GABF Gold Medal Winning "George's Fault". "George's Fault" also was awarded a Silver Medal at the 2009 Great American Beer Festival! Our convenient location, near Rittenhouse Square at 2008 Sansom St., is within walking distance of many of Philly's great beer bars.
Address:
2008 Sansom Street
Philadelphia, PA 19103
Phone:
(215) 569-9469
E-Mail:
info@homesweethomebrew.com
Winter Hours:
Mon: CLOSED
Tue: 11am - 6pm
Wed: 11am - 7pm
Thu: 11am - 6pm
Fri: 11am - 6pm
Sat: 11am - 5pm
Sun: noon - 4pm
---